Sustainability is a core element in implementing Orthex's growth strategy and key objectives as we strive to be the number one brand in the Storage product category in Europe and strengthen our position as a leading provider of household goods in the Nordics. Sustainability is a key factor in all our decision making and a significant driver of our development and investment agenda.
We have identified priority sustainability topics in the areas of economic, environmental, and social responsibility. For each topic we have defined KPIs and targets.
Orthex sustainability priorities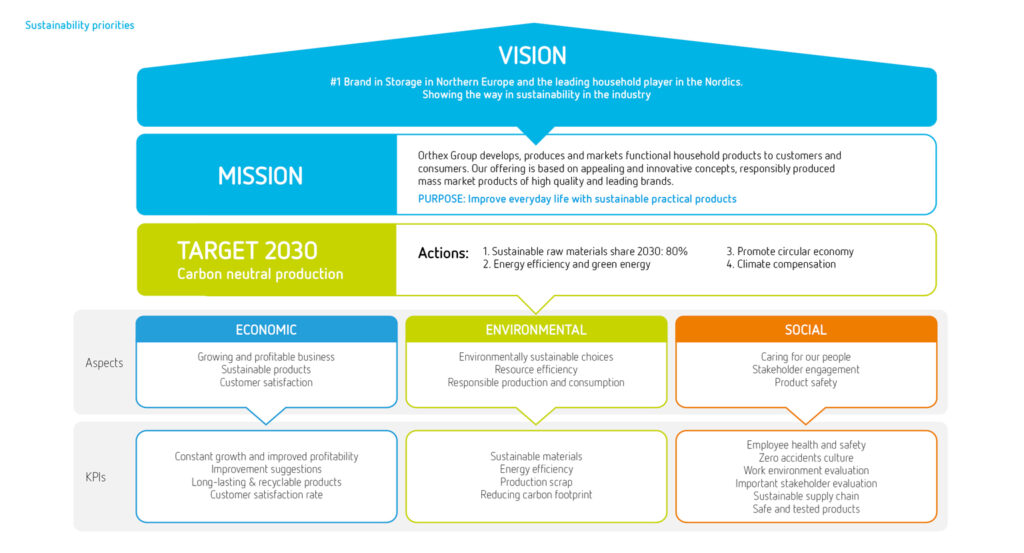 Read more
More information about steps we have taken towards our sustainability targets and results is available in our Sustainability Report which is now part of our Annual Report for the first time.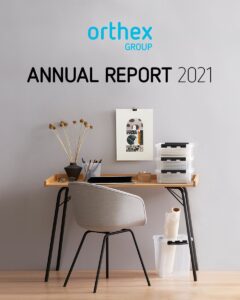 Sustainability targets and KPIs
Orthex reviews its sustainability strategy annually and sets targets and key performance indicators for three-year periods.
Orthex's sustainability targets and key performance indicators (KPIs) are presented in the table below.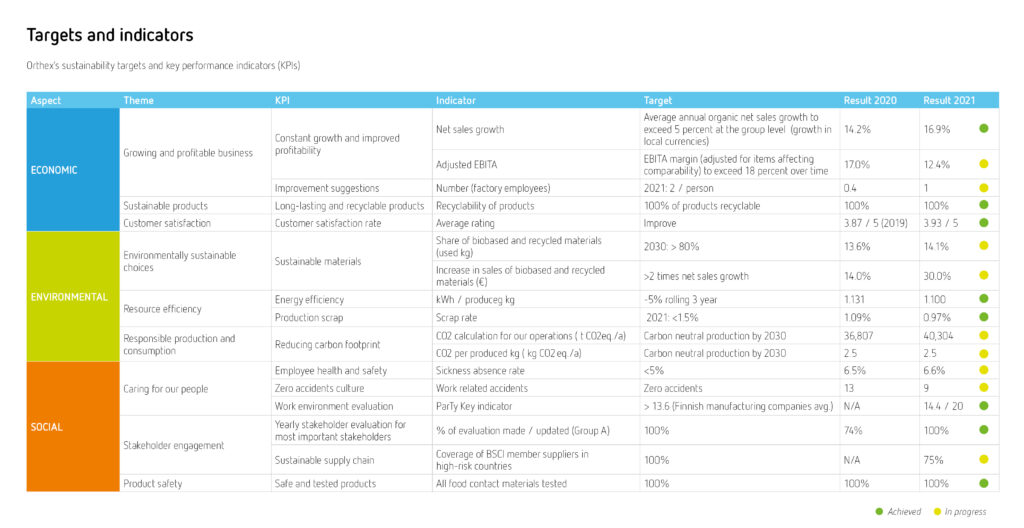 Economic responsibility
With a profitable and growing business, we are able to invest in new, more sustainable products and energy-efficient equipment and technology, provide a meaningful job for a growing number of people, and secure the future of the company. Orthex's business is based on responsibly produced, durable, reusable, and recyclable plastic products, which play an important role in a sustainable circular economy. Our products are made with high-quality raw materials and last for decades – 90% of them are manufactured in our own factories under our strict quality and safety control.
Environmental responsibility
The main building blocks of our approach to environmental sustainability are our products, sustainable raw materials, energy efficiency and our carbon neutrality target. Orthex does not make single-use products. Orthex's high-quality, safe, and durable products are made with care and timeless design. They are made for long-term use and are recyclable in all our markets. We are also actively increasing the share of bio-based and recycled raw materials. At the same time, we continuously strive to reduce the carbon footprint of our operations and products and are aiming for carbon neutrality in our production by 2030.
Social responsibility
It is our responsibility to ensure that everyone feels safe and motivated at work, enjoys their workplace, and can contribute through continuous improvement. We do this by managing our occupational health and safety risks, taking preventive measures, educating employees, and continuously evaluating and improving our work. Leadership, commitment, and engaged employees are key factors for us to succeed in this area and in general.
Product safety is a top priority for Orthex. We take great pride in offering products that are manufactured with safe, high-quality raw materials that make them durable, functional, and safe to use. We comply with all relevant product safety regulations and guidelines.
Sustainable business practices
Orthex operates internationally, and we comply with all laws and regulations applicable to our operations. However, our way to conduct business goes beyond that: high ethical standards and integrity are present in everything we do. Orthex Code of Conduct applies to all our employees, Management Team, and Board of Directors. The Code of Conduct defines the key principles for how we engage in business, treat each other, and safeguard Orthex's assets. It is a tool that helps recognise ethical dilemmas and presents ways to solve them. Our employees are encouraged to report any breaches of the Code of Conduct to their supervisors or through Orthex's whistleblowing channel.
Our Supplier Code of Conduct (SCoC) presents Orthex's sustainability requirements for suppliers. Our suppliers must either commit to our Supplier Code of Conduct or present their own code of conduct with similar or stricter sustainability requirements compared to those in our SCoC. In countries that we have determined high-risk, we monitor compliance with our SCoC in the supply chain through amfori BSCI which carries out on-site inspections, audits, and periodic self-evaluations of suppliers and their sub-contractors.
Orthex's contribution to the UN Sustainable Development Goals
Orthex supports all seventeen UN Sustainable Development Goals (SDGs). Based on identified priority sustainability topics in the areas of economic, environmental, and social responsibility, we have determined the most relevant SDGs for Orthex, and how we can best contribute to them.
Orthex has identified four SDGs to which it can make the most significant contribution.