Orthex's financial reports and related presentations as well as the company's annual reports can be found here. Orthex reports quarterly. The publication dates of financial reports are disclosed before each accounting period, and they are available on Financial calendar.
Interim financial reports and presentations
Annual Report 2021
This is the company's first Annual Report as a listed company, and in addition to the annual review it includes the Board of Directors' Report, Financial Statements, Corporate Governance Statement, and Remuneration Report for the year 2021. For the first time, the Annual Report also includes the company's Sustainability Report.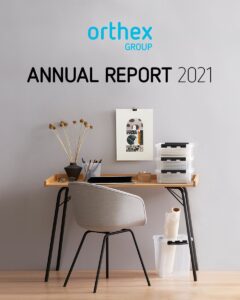 Annual Report 2021 (ESEF-XHTML)
Orthex's Annual Report is published also in accordance with the European Single Electronic Format (ESEF) reporting requirements. The format of the report is Extensible Hypertext Markup Language (XHTML).